IAN LLOYD
Ian Lloyd, lead vocalist for Classic Rock Legends Stories (co-founded with Left Bank mastermind Michael Brown – "Walk Away Rene") had the 1973 Global #1 Hit "Brother Louie". Stories also performed on all the top TV shows including "American Bandstand" and the "Midnight Special."
With other Top 40 hits like "I'm Coming Home", "Mammy Blue", "If It Feels Good Do It", and more, Ian has continued to make his presence known & heard through out the land. "Brother Louie" continues to be played on Classic Rock Radio and has appeared in numerous films. In addition you can hear Ian singing the theme song to Louis C.K.'s Hit Sitcom "Louie" weekly on FX Network.
Ian's well-received solo albums include several star studded recordings. Working with Ric Ocasek (of The Cars) on "Goosebumps", they produced Top 40 hit "Slip Away". His voice can also been heard on No. 1 records such as Billy Joel's "I Go To Extremes', Foreigner's classics including "Double Vision", as well as Rock Classics "Feels Like The First Time," "Cold As Ice," "Waiting For A Girl Like You," "Juke Box Hero." Ian has also appeared on records by Yes, Peter Frampton, Ian McDonald [of King Crimson/Foreigner fame] and Survivor, just to name a few.
With a litany of credits to his name, Ian's career and his indomitable vocal style have firmly established his place in rock history. His distinctive voice has won him international acclaim and fans that continue to adore him. His High Energy live performance is something NOT TO BE MISSED!
DISCOGRAPHY
Ian Lloyd
Everybody's Happy 'Cause It's Christmas Time
Machine Dream Records
Release Date: "Merry Christmas Ho Ho Ho!"
A unique look at a snowy, happy Christmas world through the mind and voice that is Ian Lloyd.
Ian Lloyd's ode to a long time friend and title track to his album, "O-de-Po" is a Global Marijuana Music Award winner!  This vast sounding record doles out intense Rock vocal performances with mood-building multi-tiered harmonies (as you could only expect from Ian), and combines melodic guitar & keyboard riffs set across grooving beats and percussion.
Social Hero
The Famous
Machine Dream Records
Release Date: May 15, 2009
New York rockers present "The Famous" – an explosive collision of high-caliber songwriting, incendiary guitar lines and vocal heroics – guaranteed more powerful than a sledgehammer [or your money back.].
Fast Forward was a band formed in 1984, featuring Ian Lloyd, former lead singer of Stories and solo artist. The band released one album, Living in Fiction. Prior to the formation of Fast Forward, Ian Lloyd had developed a solo career, following the breakup of Lloyd's former band, Stories, in 1974. Lloyd released three solo albums between 1976 and 1980, including 3WC (Third Wave Civilization), in 1980. The 3WC album was notable for its inclusion of Lloyd's cover of "Straight from the Heart", three years prior to Bryan Adams releasing his own version, to worldwide acclaim. It also was co-produced by Bruce Fairbairn and featured Adams' then songwriting partner, Jim Vallance, contributing many of the songs and playing drums.
Many of the people involved with 3WC in 1980 returned to become involved with the Fast Forward project in 1984. The project was initially to be another Ian Lloyd solo album, but Lloyd requested that it be recognized as a band effort. The recording band was primarily Bryan Adams' band. The album "Living in Fiction" was co-produced by Bruce Fairbairn and Ian Lloyd. Bruce Fairbairn also contributed horns and backing vocals, as a principal member of the band. Guest musicians on Living in Fiction included Bob Rock (guitar), Beau Hill (keyboards and backing vocals), with additional significant contributions from the Foreigner pairing of Mick Jones and Lou Gramm. The latter is a good comparison for singer Lloyd, who has Gramm like qualities on this album. The music is a glorious amalgam of many bands/artists from the late great eighties. One video was released for "What's It Gonna Take" and there was one live band performance on Canadian radio.
3WC is terrific, a smoother outing than the previous Goose Bumps with the singer and producer, Ian Lloyd and Bruce Fairbairn, respectively, seeming to be in sync, more comfortable with each other. "Straight From the Heart" was recorded three years before it became the breakout hit for the former lead singer of Sweeny Todd, a guy by the name of Bryan Adams, and this early version is an absolute revelation. What would have happened had the voice on the number one hit "Brother Louie" taken "Straight From the Heart" to the Top Ten first? Maybe it would have led to more hits for Ian Lloyd. Bryan Adams' songwriting partner, Jim Vallance, co-writes the title track with Ian Lloyd, and it is a great direction for this singer in search of a new hit. It is spacy, it is science fiction, it takes his Ric Ocasek-written track, "Slip Away," from the previous disc to the next level. It is simply a great piece of music. With Mick Jones of Foreigner, the brilliant Fairbairn, Loverboy's Paul Dean, and songwriter/multi-instrumentalist Jim Vallance, it is hard to imagine the former singer of Stories missing with this superlative effort. Foreigner's manager, Bud Prager, had the ear of the industry, and producer Fairbairn was a year away from his breakthrough hits with Loverboy. Much more refined than the excellent Goose Bumps album from 1979, that album had much potential but was all over the map. 3WC smooths things out with the pop flavors of Stories and that '80s sound which Bryan Adams made so popular. Lloyd's own songs, "Dedicated to You" and "Wanderers," are much more on target here as well, while he takes on covers of Gary Glitter's "Do You Wanna Touch Me" (which Tommy James did four years before this album), and the Supremes' "Stop! In the Name of Love." Both covers are fun, and they allow Lloyd the opportunity to go beyond the seriousness of the original tunes. The album is consistent with the tremendous reading of "Straight From the Heart," a Vallance/Adams original that works in "Lonely Nights" and an appealing combination of sounds which finally complement this valuable singer as perfectly as did the compositions of the Left Bank's Michael Browne. Innovative and carefully produced, it was just a couple of years before its time. Seek it out, hear some magic, and wonder what it takes to bring important music like this to the attention of the public. – Joe Viglione
Managed by Bud Prager in 1979 (the man who represented Foreigner, Deena Miller — daughter of Rolling Stones producer Jimmy Miller — Leslie West, and many others), the former singer for Stories was produced by a man instrumental in Aerosmith's comeback, the late Bruce Fairbairn. With help from members of the Cars, Foreigner, and former Aerosmith guitarist Jimmy Crespo, this album had all the elements for the breakthrough disc that Ian Lloyd deserved. "Slip Away" was written by Ric Ocasek and should have been a big Cars hit since it really didn't conquer radio on behalf of Lloyd. Ben Orr is on bass and backing vocals, Ric Ocasek pipes in on backing vocals and rhythm guitar, and Jimmy Crespo plays the very new wavey guitar — it's Aerosmith meets the Cars with Stories lead vocalist! Russ Ballard's "First Heartbreak" sounds like a lost girl group classic with T.Rex overtones. A smart cover like the Bee Gees' "Holiday gets all synthed up, while the Zombies' "Time of the Season," always a welcome title, gets a respectable and unique reading by Stories former lead singer. "Open Soul Surgery" definitely goes the Foreigner route, though Lou Gramm and Mick Jones are on other tracks like "Love Stealer" and "She Broke Your Heart." Side one is very good, but side two fares even better, the title track, "Goose Bumps," with a solid riff and creepy vocal by the singer, and something even more key — hooks different from the other 11 songs. There are substantial melodies all over this disc, solving the problem of his Polydor outing three years prior. Where the self-titled Ian Lloyd disc was mostly penned by the singer, Goose Bumps has a dazzling display of inviting and original tunes from all sorts of contributors. Ian Hunter and Corky Laing collaborate on "Easy Money" — and this would've been great on a Mott the Hoople or Mountain disc, very different and distinctive, like when Hunter co-wrote "Goin' Through the Motions" for Blue Oyster Cult. "New City Lights" features Michael Brecker on tenor sax while Jim Vallance and Bryan Adams contribute the strong "I'm Ready." Paul DaVinci pens the final tune, "Love Is a Ship"; it is dreamy, another change of pace, and a superb conclusion to an album by a singer who gets help from some serious players, colors and flavors for his music that are more than worthwhile. Coming three years after his self-titled Polydor release, the 1976 disc which retained the services of Stories guitarist Steve Love and also contained performances by Mick Jones, this was the one after the transition album, the one that should have brought Ian Lloyd more hits like "I'm Coming Home," "Mammy Blue," and "Brother Louie." It made some noise but got lost in the rock & roll shuffle, however, Goose Bumps, with its red fingernails scraping across a chalk board cover (perhaps a little too punk for a pop artist), is more than just a solid outing from Ian Lloyd, it is an exemplary record and is worth repeated spins.
His first solo outing after Stories' 1973 album Traveling Underground on Buddah, a disc that was labeled Ian Lloyd & Stories, this self-titled recording features Stories' guitarist Steve Love along with the guitar man from Foreigner, Mick Jones. Lloyd is in his best Rod Stewart voice — even looking a bit like a young Stewart on the cover. For the most part this is a good recording, but Love and Lloyd definitely lost the groove they had with Stories three years earlier, and it would be three years until Goose Bumps would materialize on Scotti Brothers, where Stories producer Richie Wise did A&R duties. Ian Lloyd originals like "I'll Give You Love" and "Lonely Dancer" tend to sound like jams, and the shame of it is that "I'll Give You Love" had the potential to sound like a nice outtake from Paul McCartney's Ram album. The pull of hard rock was a leaning that took away from Ian Lloyd's fan base, and solo collaborations with Michael Brown of the Left Banke would have been more welcome by original fans than pairings with musicians from Foreigner. Having said that, it's a bit of a paradox when Mick Jones sole songwriting contribution, "One More Chance (Sha La La)" almost sounds like the Small Faces, down to the Steve Marriott vocal. By the time Goose Bumps came along, things would get more focused. Jimmy Mack's "Let Me Down Easy" is one of the album's highlights, with Ian McDonald's saxophone a tasty supplement to Lloyd's sensitive and wonderfully warm performance. Most of the material on Ian Lloyd is written by producer Gregg Diamond and the singer, and fails to reach the heights of the two songs by Jimmie Mack and Mick Jones. "Sensations" sure tries, and it is nice to have Steve Love and Mick Jones collaborating on guitars and backing vocals, a terrific hook in need of a more melodic verse, but lovely guitar lines provide a pretty balance which is consistent across both sides of this album. It's really not a bad recording at all, but with label changes and the momentum of "Brother Louie" long gone, this album really had less of a chance to shine. It definitely needed stronger material, something they successfully addressed on Goose Bumps; covering more Hot Chocolate or the Left Banke would have been advisable for this first solo outing which, despite the flaws, has real merit.- Joe Viglione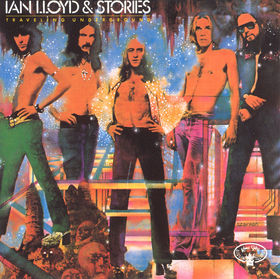 With 1973′s Traveling Underground, Stories changed its name to Ian Lloyd & Stories and unveiled a new five-man lineup. Lead singer Lloyd (a whiskey-voiced belter comparable to Rod Stewart and Led Zeppelin's Robert Plant), guitarist Steve Love, and drummer Bryan Madey were still on board. But keyboardist/composer Michael Brown (a graduate of Left Banke and Montage) was gone, and the new members were keyboardist Kenneth Bichel and bassist Kenny Aaronson. Traveling Underground proved that there was life after Brown for Stories; this is a generally solid effort, although About Us remains the band's most essential album. Like before, Stories came out with an R&B-minded single that doesn't sound anything like the rest of the album it's on. "Mammy Blue" is as different from the other songs on Traveling Underground as "Brother Louie" is from the rest of About Us. A long way from the R&B leanings of "Mammy Blue," tracks like "Stories Untold," "Hard When You're So Far Away," and "Earth Bound/Freefall" favor the type of baroque art-rock approach that had worked so well on Stories' previous releases. "Brother Louie" and "Mammy Blue" indicated that Stories might have made a great blue-eyed soul band, instead, Traveling Underground is the work of a fine pop-rock/art-rock band that occasionally detoured into blue-eyed soul. – Alex Henderson
Compared to the band's intricate, insular debut, About Us is a completely different story altogether. No work is required of the listener on this second album by Stories, as Eddie Kramer's cinematic production gives the band definition and drama, pulling them into the leagues of such power poppers as Badfinger, the Raspberries, and Todd Rundgren. Not that Stories rocked as hard as any of those three — there's not much kinetic thrust to their rhythms or reckless abandon to their playing, not even on the boogie "Don't Ever Let Me Down" or the jokey blues of "Down Time Blooze" — but there's muscle and color to their sound on About Us; the songs leap out of the speakers and command attention, unlike the tunes on the debut which whispered and required close listening. Not that Michael Brown has abandoned his long-standing infatuation with delicate melodies, or even his fondness for McCartney-esque whimsy, but when put through the filter of Kramer's production, everything becomes bigger and bolder, to the extent that a jaunty piano instrumental, "Circles," recalls nothing so much as one of Billy Joel's ragtime tunes of the early '70s. Such moves toward the mainstream are undoubtedly why Brown bolted some time during the recording, leaving the band as the sole province of singer Ian Lloyd, but the music left behind is almost all unmistakably Brown's, as its all driven by melody and even occasionally built upon baroque keyboards. The major difference and inarguable improvement is the production, which fleshes out the songs, not only making them easier to appreciate but harder to resist, turning About Us into a minor power pop classic. Of course, the exception to the rule is the album's lone hit, a lush cover of Hot Chocolate's "Brother Louie" which suggested Stories were a blue-eyed soul AM pop band, a suggestion that the rest of the album proved unfounded, but fewer people heard the other 12 songs on this album, not just in 1973, but throughout the years, so About Us turned into a lost pop classic that even pop aficionados had to be persuaded to find. But once they were persuaded, they were often seduced by this sumptuous yet powerful pop album. –Stephen Thomas Erlewine
Stories was always an odd creature, bearing echoes of Michael Brown's delicate work with Left Banke, a more mainstream McCartneyesque pop also reminiscent of a sweeter Raspberries and, thanks to Ian Lloyd's light rasp, hints of Rod Stewart. That hoarse soulfulness served Lloyd well on the band's only hit "Brother Louie" — which appeared on their second album, About Us — but he was never a true blue-eyed soul vocalist, and not just because Stories didn't often delve into blues-rock: his touch was too light, his voice too high and thin to dig deep into R&B. He was stuck between two sounds, between precious pop and soulful rock, which was completely appropriate for Brown's artful pop writing. Brown's songs for Stories weren't immediate, they were elliptical and gentle, just melodic enough to hint that these tunes are hookier than they are, having just enough structure to suggest big pop arrangements that never quite materialize, at least on their debut Stories. The touchstone for Stories is quite plainly Paul McCartney, as this is music that places the melody at the forefront; it's proudly precious and willfully whimsical, music crying out for listeners with a sweet tooth. Here, Stories make Badfinger seem like muscular macho men, as their hardest-rocking song "Take Cover" — with its big, cascading chorus, it's a tune that could have slipped onto No Dice — almost perversely avoids power chords. Then again, "Take Cover," while it does point the way to About Us, is atypical on Stories, as it's built upon Baroque ballads and lovely, lilting midtempo pop, signatures of Michael Brown from the days of Left Banke. While it's interesting to hear Brown navigate the valleys of modern rock production here, Stories could have used more definition in its arrangements, more power in its production, to really grab listeners. As it stands, it's ideal music for cultists: music that requires a bit of work, but not too much, to truly appreciate, and it does pay back the effort it demands.  –Stephen Thomas Erlewine